Why Do You Need Patio Cleaning?
A newly laid patio is a great addition to any property. Your slabs will look new, clean and the colours will be bright, but the stone is exposed to the wind, rain and other elements and eventually, patio cleaning is essential.
If left unchecked, a patio can build up with algae, moss and weeds and when wet, are very slippery. It's amazing how quickly the slabs can lose their colour and eventually even a bright red slab will look grey.
Why Use Us For Your Patio Cleaning?
We are very satisfied with the results of our patio cleaning and sealing.  They were on time, made no mess and completed the job on time.  We are very happy with the results and gladly recommend their work.  Our backyard is transformed!
As Smartseal Registered Installers, our patio cleaners in Telford are able to professionally seal patios using high quality patio sealers. After the patio cleaning  and drying out processes, we use professional, high quality patio sealers to seal the patio surface.
Natural Stone Patio Cleaning & Sealing
For Indian sandstone & natural stone patios, we use a high quality, clear, solvent free acrylic impregnating coating system. Application of the ULTRA sealer will alter the chemical structure of the porous sandstone or natural stone providing a excellent water repellent and stain resistant surface. There are 2 types of finish, a colour enhancer which leaves a 'damp', but not wet look finish or a plain matt 'dry' finish which will not alter the natural look of your patio.
One coat application
Highly resistant to algae, lichen and staining
Will not change appearance of surface
Touch dry in 2-3 hours
Fully waterproof 24 hours
Protects patio slab & pointing
Lifespan up to 10 years
Suitable for Indian Sandstone Limestone, Terracotta, Slate and Granite
Can be used externally or internally
Before patio cleaning and sealing
After patio cleaning and sealing with ULTRA Colour Enhance "damp" finish.
Pre-cast Slab Patio Sealing
As patios are well travelled areas of your home, we can at the customers request, add a non-slip additive to the sealer making your sealed patio safer, even when wet. The sealer does not give a shiny, glossy finish. This can often make the patio look 'cheap'. Rather, the finish is an attractive soft sheen.  The benefits of patio sealing are:
Enhances natural colours of Pre-Cast Patio slabs
Brings old patios alive
Protects against loss of colour through UV light
Resists oil and stain penetration
Inhibits weed and algae growth
ISO9001/BS5750 quality approved Patio Sealer
Suitable for most patio slabs
How Long Will The Patio Sealer Last?
Before patio cleaning and sealing
After patio cleaning and sealing with ULTRA Colour Enhance "damp" finish.
All of our patio sealers are Smartseal patio sealers, manufactured to ISO9001/BS5750 standards. These patio sealers have been tried and tested by professional trade bodies. The standard patio sealer will give protection up 5 years. The ULTRA patio sealer offers protection for up to 10 years.
A typical schedule for a full patio cleaning & sealing package:
Day One

Pre-Treatment Pre-treatment of patio to kill off weeds, moss or lichen, prior to patio cleaning

Day Two

Patio Cleaning 5-7 days later we return to carry out the patio cleaning

Day Three

Patio Sealing 5-7 days after the patio cleaning, the area will have dried out and be ready for the application of the base-coat of patio sealer

Day Four

Patio Sealing The next day we return and apply the top-coat of patio sealer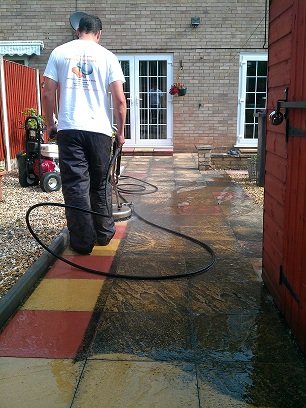 Patio cleaning using a rotary cleaner
To arrange a FREE no-obligation site survey for your patio cleaning in Telford, Shrewsbury, Shifnal and Newport areas, please visit our Contact Us page.