Roof cleaning and applying a protective roof coating is becoming more popular among homeowners in the UK. Roof coatings are applied to prolong the lifespan of the roof and to enhance the look of the home in general. We provide roof cleaning and roof coating in Telford, Shrewsbury and throughout Shropshire, Staffordshire and Cheshire.
The biggest enemies of any roof are moss and algae. These cause:
Increased stress on roof structures
Roots of moss can cause hairline cracks to appear on the roof tile and allow water and frost to penetrate
Lifting of roof tiles
Water Retention, wet moss is very heavy
Blocked Gutters
Colour loss from UV rays
Roof looks unsightly
Why Choose Us For Your Roof Cleaning & Roof Coating?
We are a professional company and Smartseal Registered Installers.  As a roof coating agent, we are fully insured, trained and equipped with the latest cleaning and application equipment.
General Schedule of Work
Assessment

Before any work is undertaken, a full roof survey including any risk assessment implications is always carried out. All of our quotations are confirmed in writing.

Protection

To minimise any mess created whilst we are cleaning, all walls and neighbouring properties are protected and downpipes detached.

Cleaning

Cleaning is carried out using professional cleaning equipment; once complete, your property is left clean and tidy.

Repairs

Once your roof is dry, any necessary repairs to the roof tiles and mortar are carried out.

Protection

Prior to carrying out the roof coating, a potent anti-fungicide is applied to kill off any moss or algae spores.

Coating

Two coats of ClimaShield roof coating are then applied, allowing drying time between coats. This will protect your roof and keep it looking good for years to come.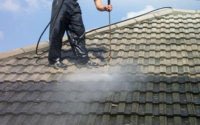 Roof cleaning can extend the life of your roof by removing moss and algae that weaken the tiles.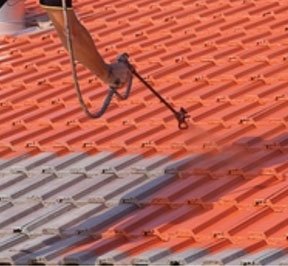 Roof coating can improve the appearance of your roof as well as helping to protect it from damage.
The Roof Cleaning Process
Surrounding areas are covered with protective sheeting or tarpaulin.
Any downpipes are blocked or detached.
Access points are set up.
Pressure cleaning is always carried out from the top downwards.
Repairs are carried out prior to roof coating.
All waste is removed and the site cleaned upon completion.
Roof Repairs We Carry Out
All of our roof repairs are only carried out as part of the roof cleaning or roof coating packages. We do not carry out roof repairs only. The following roof repairs are carried out if required:
Roof surveyed to look for any damaged tiles.  We will always inform you if repairs are required.
Loose mortar and ridge tiles replaced.
Damaged or cracked tiles are replaced.
Lead flashing re-pointed if required.
Photographs for proof of roof damage are available upon request.
Our Roof Coating Products
ClimaShield is a trademark of Smartseal UK Ltd , one of the UK's leading suppliers for external surface sealants and coatings.
ClimaShield roof coatings are manufactured to ISO9001/BS5750 standards.
ClimaShield roof coatings come in a range of colours and have undergone rigorous testing including:

Accelerated Weathering
Water Vapour Permeability
Freeze/Thaw Resistance
Roof Tile Adhesion

Your roof can be completely re-coloured, i.e. slate green tiles can be sprayed terracotta etc.
The Benefits Of Roof Coating
Protects your roof against moss and lichens
Extends the lifespan of your roof
Can add value to your home
Will keep a home cooler in the summer (requires Climashield Pro)
Will make old tiles look like new
Protects against frost damage
Comes with a 5 year guarantee
To arrange a FREE no obligation site survey for roof cleaning or roof coating, please visit our Contact Us page.